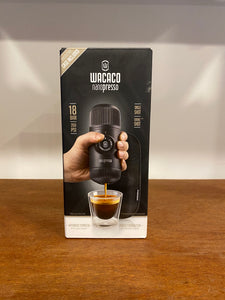 The Nanopresso by Wacaco
Coming from the legacy of one of the most creative and innovative portable espresso machines, Nanopresso redefines the genre and sets new standards. Incredibly beautiful and elegant, it looks every bit as powerful as it is. Packed with new features and capabilities, which will drastically improve the way you prepare your favourite coffee, Nanopresso is one of the best and most versatile espresso machines. A truly unique addition to your coffee toolkit!
Created for travel-hungry espresso lovers, the Wacaco Nanopresso is everything you need to take rich, balanced espresso everywhere you go. Weighing a mere 336g and just over 15 cm tall, this is the most portable espresso maker on the market.
Despite its small size, the Nanopresso packs a punch. You can fit 8 grams of coffee in the portafilter and up to 80 ml of water in the reservoir, giving you the ability to brew single shots. If you'd like to brew doubles, a portafilter adaptable is sold separately.
The brewing process is friendly to espresso newcomers and veterans alike. Simply press the pumping knob a few times and you'll generate up to 18 bars of pressure - enough pressure to rival expensive commercial machines.
The innovative design requires 15% less force from you than previous Minipresso models, which means portable espresso has never been easier. Now available in new colours - Arctic Blue, Chill White, Moss Green, Lava Red.
Basic Nanopresso Brewing Instructions:
Add 8g of ground coffee to the portafilter and tamp.
Then add 80 ml of hot water to the reservoir.
Assemble the brewer and hold it above the included mug.
Press the pumping knob continually until the mug is full of rich, balanced espresso.
Cleaning up after pulling a shot is easier than ever with the redesigned portafilter - it only takes a few seconds! An EVA material travel case keeps the Nanopresso safe, even on the most difficult journeys.