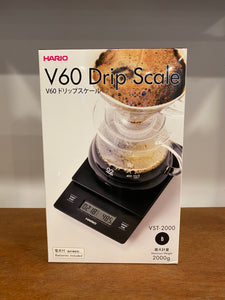 Hario Drip Scales Features
Precise Coffee Brewing - Enables you to brew coffee with consistency and precision by empowering you to use exact amount of ingredients every time.
0.1g Measurement Increments - Measures every 0.1g for the first 200g, then 0.5g after that.
Built-In Timer - Tracks your brewing time so you don't under or over brew your coffee.
Auto Shutoff - Turns off after 5 minutes of inactivity to preserve power and reduce headaches.
The Specifics
Materials: Body / ABS resin

Dimensions:  W120 × D190 × H29mm

Measures In: Grams, Time

Weight Capacity: 2,000g

Power: AA Batteries (x2)