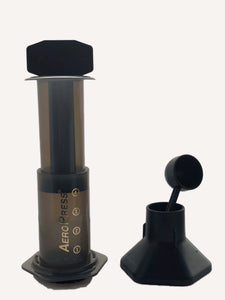 The Aeropress is for anyone who fancies themselves as a home barista. Show off your skills and knowledge to your friends without actually having to know too much. 
Every barista owns one of these, and if you don't. Ask yourself are you really a barista?
Filter coffee brewed from your own home in under 5 min.
Can you use filter roasted coffee or espresso roasted coffee depending on your preference 
Additional attachments available.
metal filters for the sustainable folk
puck puck for the cold drip enthusiast
prismo to transform it into espresso