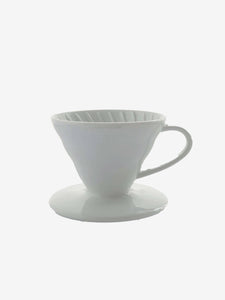 We love pourover coffee. Aside from being one of the gentlest ways to brew, it is beautifully clear and results in deliciously nuanced, refined, and well-rounded flavours.
Pourovers are small, simple, cheap, and unbeatably efficient if all you want is one (or two) cups of coffee, quick and easy! They require very little hardware for a good result, are super simple to brew and clean up and are great for travelling.
Of all the pourovers on the market, Hario make the finest, and have done so for decades. The innovative design of the V60 brewer - from the swirling ridges, to the large open hole at the base - allows for great full cone brewing, and with a little practice great, even extractions of any coffee can be achieved. We love to play around and experiment with the pourover, but if you're after a failsafe recipe check out our 
Pourover brew guide
 - it's the best place to start.